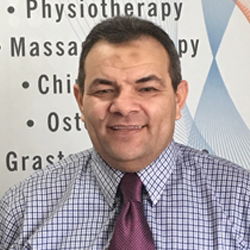 Gamal Gouda, Operation Manager/ Osteopath
"For me, the best part of my job is the dream and challenge of building a Canada-wide organization that provides expert wellness services to all ages by applying evidenced-based treatments. Using the most modern techniques, tools, and machines, we facilitate rehabilitation and wellness, taking care to carefully diagnose each case individually." Currently located in Whitby, Ontario, PhysioCare Physiotherapy is managed by Gamal Gouda and his expert team. The clinic's services include: physiotherapy, massage therapy, chiropractic services, osteopathy, laser therapy, acupuncture, and more.
Physiocare has the most updated equipment for this field of healing including shock wave, decompression traction system, ultrasound, laser, infrared, and other systems. His team is highly specialized in their training and work collaboratively in treating patients. Some of the techniques they implement include: active release, McKenzie, Graston, Mulligan, manual therapy, and more.
Gamal has over 24 years of international experience as a physician specialist in internal medicine and nephrology. He takes people's physical problems seriously and is methodical and patient in finding the correct treatment to alleviate pain for good. He is truly devoted to helping others. "I feel like I'm directly helping people in situations that are overwhelming and seemingly impossible to them."
Gamal graduated from the Ontario School of Osteopathy and Alternative Medicine in Toronto as an Osteopathic Manual Practitioner. He focuses on Myofascial Release Technique, Counterstain Technique, and Muscle Energy Technique.
"What motivates me every day is the satisfaction of seeing our clients get well after coming to our clinic with very serious issues. Some people experience awful trauma and pain, and it's wonderful to help them recover to a state of being pain-free." Currently, Gamal is working on a project that would link his clinic's work with research studies to further advance techniques and improve practices in these medical fields.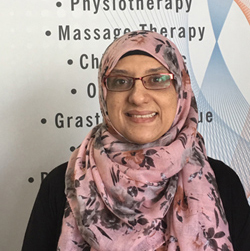 Ghada Shendy, Owner/ Registered Physiotherapist
Ghada Shendy is a Registered Physiotherapist in Ontario. She earned her Bachelor degree and Masters degree of Physical Therapy at the University of Cairo in Egypt. She was the head of the Department of Physical Therapy at the College of Health Science For Girls and The University of King Abdel Aziz in Saudi Arabia. She specialized in manual therapy and pelvic floor care.
Ghada enjoys helping her patients understand the role of physiotherapy in maintaining proper function of the pelvic muscles before, during and after pregnancy. Ghada is interested in teaching and mentoring students in health care programs and has supervised co-op and other active learning placements.
Ghada is passionate about providing her patients with the best quality of care, using the most advanced and effective treatment methods for musculoskeletal injuries.
Her Certifications include:
• McKenzie Treatment Technique
• Mulligan Manual Therapy Technique
• Pelvic Floor Health Program
• Bioflex Laser Therapy
• Graston Technique
• Manual Physical Therapy-level 2
Ghada is also a mother of three and loving wife. In her free time she enjoys swimming and reading.
Ryan Hill, Registered Massage Therapist
Ryan Hill graduated in 2012 from the Sutherland-Chan School of Massage Therapy in Toronto. He is a member of the College of Massage Therapists of Ontario. Ryan's experience includes training in the Toronto General Hospital Thoracic Ward, the Princess Margaret Lodge and the Sutherland-Chan Clinics; multiple sclerosis, senior and student; where he worked on clients with various conditions and disabilities. 
Ryan also has an interest in sports massage therapy and has worked with both runners in the Toronto Marathons and Toronto Marlies hockey players. He is able to provide the benefits of massage therapy both pre and post event. He practices a "Find the cause, treat the cause" approach as pain in one area can stem from various other locations in the body. 
He uses Myofascial Release, Deep tissue, General Swedish and Neuromuscular Massage techniques. As well as joint mobilization, hydro therapy and stretching/strengthening exercises. Whether to recover from injury or stress, Ryan looks forward to providing exceptional massage therapy to his clients at PhysioCare.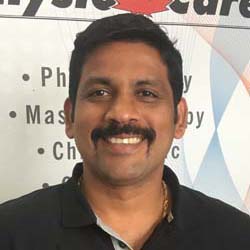 Ganesh Bhagavathiappan, Registered Physiotherapist
Ganesh Bhagavathiappan is a Registered Physiotherapist in Ontario. Ganesh has obtained his Bachelor degree in Physiotherapy from Tamilnadu Dr M.G.R medical university, India in 2005 and pursued Master degree in Physiotherapy in the field of Musculoskeletal disorders & Sports Physiotherapy from Rajiv Gandhi university of health sciences, India in 2007. Ganesh has worked at A.J Medical college hospital & Laxmi memorial college of Physiotherapy for several years where he treated patients and taught Under & Post Graduate students.
Over 10 years of experience in the field of Physiotherapy Ganesh enjoys doing Manual Therapy, Mobilization With Movement, Acupuncture & Taping technique to his patients for various Musculoskeletal Conditions & Sport Injuries. Ganesh main focus is to identify the root cause of the problems, treat them with evidence based practice for a long term relief and educate patient on injury prevention and activity modification.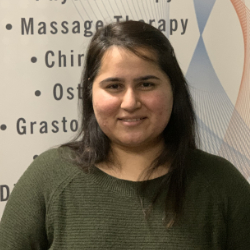 Sanchita Sawlani, Registered Physiotherapist
Sanchita completed her Bachelor of Physiotherapy with honors in 2012 from India. In 2015, she acquired Advanced Diploma in Exercise and Leisure Management from Cambrian College of Applied Arts and Technology in Sudbury, ON. She has experience working in both hospitals and private practice settings that have a caseload of all ages.
As a Physiotherapist, Sanchita aspires to provide comprehensive and compassionate care to all her patients. She emphasizes the utilization of evidence based treatment strategies along with patient education, individualized exercise prescription and hands-on care with manual therapy.
Sanchita is a firm believer in continuing education, which is why she has continued to enhance her skills with concepts of soft tissue release through cupping and Gua sha, acupuncture, pelvic floor rehabilitation, McKenzie Method of MDT (Part A) and introductory vestibular rehabilitation.
Sanchita is an avid reader. In her spare time, she enjoys music, nature and books."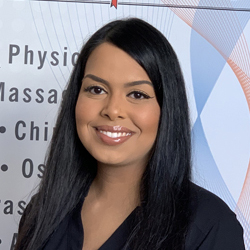 Dr. Jessica Kissoon, Registered Chiropractic
Dr. Kissoon is a licensed Chiropractor in Ontario who completed her Doctor of Chiropractic degree at the Canadian Memorial Chiropractic College. Prior to becoming a Chiropractor, she attended the University of Toronto where she studied Biology and Psychology. She has also completed postgraduate studies at McMaster University and is certified in Contemporary Medical Acupuncture as well as Webster Technique for pregnant women, through the International Chiropractic Pediatric Association (ICPA).
As a firm believer in continuing education, Dr. Kissoon is currently completing her CACCP certification through the ICPA and actively participates in courses and seminars centered on health and pain management for women and children. Her approach includes the use of spinal/joint manipulation and mobilizations, myofascial release therapy, graston, acupuncture, laser, electrotherapy, custom orthotics, and rehabilitation exercise programs.
Dr. Kissoon has always had a strong will to help others and is passionate about giving back to the community by dedicating many years of volunteer work to local hospitals, retirement homes, and institutions to promote health and well- being. She strives to improve the quality of life for her patients and those around her and looks forward to working with you to meet your health goals at PhysioCare.
Sindhuri Parimi, Registered Physiotherapist
Sindhuri Parimi is registered with the college of physiotherapists of Ontario . She completed her Bachelor in physiotherapy with honours status from India . Sindhuri worked in various rehabilitation settings including outpatient clinics, nursing homes, and hospitals. She has a great experience in dealing with clients with sports injuries, conditions causing acute/chronic pain, repetitive injuries, motor vehicle accidents (MVA) and workplace injuries (WSIB).
Sindhuri believes in functional approach of treatment with manual treatment techniques, home exercise program, providing patient education, preventing recurrence and thereby helping her patients achieve their goals and pre-injury level of functional activities.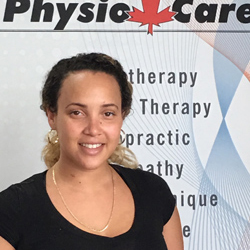 Jenelle Knox
, Registered Massage Therapist
Jenelle graduated from Medix College in 2014 and became registered with the College of Massage Therapist of Ontario soon after. Before starting her studies, she worked as a Physiotherapist Assistant for a year. It was there that Jenelle learned she had a passion for helping people relieve their pain and improve their physical abilities. 


Jenelle now plans to further her abilities in the near future by taking courses in nutrition, personal training and kinesiology, so that she can provide the best care, feedback and advice to increase her client's chances of improvement. Jenelle focuses more on the therapeutic part of massage therapy in pain relief techniques such as myofascial releases, trigger point therapy, and general massage, which are all incorporated with stretching and strengthening of the muscles.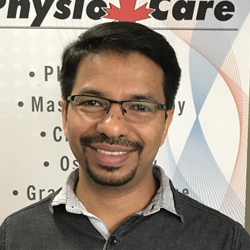 Sayeed Purayil, Registered Physiotherapist
Sayeed Purayil is registered with the college of physiotherapists of Ontario. He has outstanding experience in treating Musculoskeletal and sports injuries. Sayeed is a very pleasant personality and has a great relationship with his colleagues as well as his patients. 
His goal is to keep on upgrading knowledge and skills .Sayeed spends enough time to apply the most updated techniques and machines to help his patients get cured in the shortest time possible.He enjoys swimming and reading during his free time.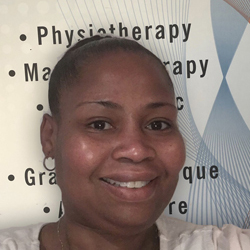 Jewel Spencer, Clinic Manager


Jewel graduated with Honours from Durham College's Physiotherapist/Occupational Therapist Assistant program. With an extensive background working with clientele across the lifespan, Jewel understands the value of the therapeutic relationship that fosters positive change. 
As the Clinic manager at PhysioCare, Jewel's goal is to work together with our strong multidisciplinary team and focus on high-quality client-centered care. Committed to the delivery of exceptional customer service, Jewel is looking forward to being an integral part of the extended PhysioCare family.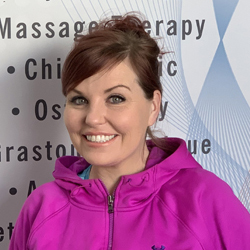 Cora Caldwell, Physiotherapy Assistant
After several years as a Patient Care Coordinator in the medical field, Cora's strong desire to help people and work hand's on with patients led her to go back to school for the PTA/OTA program where she graduated with distinction and honours. She is certified on the Bioflex laser therapy and experienced in all other modalities including; therapeutic ultrasound, TENS, IFC and laser.
She is extremely empathetic, kind and enthusiastic. She can often be found singing around the clinic and you will be guaranteed to be greeted with a friendly smile.
Sandra Reid, Physiotherapy Assistant 


Sandra Reid graduated with honours from the physiotherapy assistant program in TriOS College . She is also certified with Bioflex Laser Therapy and has deep experience in using the IFC , Ultrasound , Decompression Traction System and Graston system .

 Sandra is a compassionate person with a drive to help others. By choosing this field , she has had the ability to watch people return back to their lifestyle with confidence which gives her a sense of fulfillment.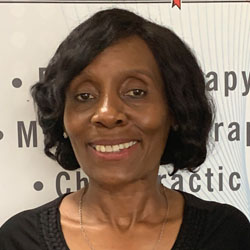 Pearl, Registered Dietitian
B.Sc. RDN .OCT. Registered Dietitian Nutritionist educator. Graduate of The Mico University 1989, Centennial College 1997 and The University of Texas Southwestern Medical Center Dallas 2010. Experience includes Diabetes Management, Renal care, weight management, community nutrition education including healthy eating, preventing and controlling hypertension, eating healthy on a small budget. Pearl is a member of the following professional organizations: College of Dietitians of Ontario, Dietitians of Canada and Ontario College of Teachers and is credentialed by the commission on Dietetic Registration U.S.A.



"My goal is to educate my clients on healthy nutrition and help them to develop self-management skills to walk in Health".