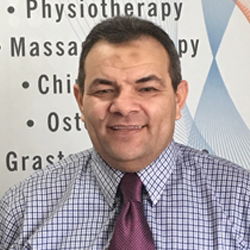 Gamal Gouda, Operation Manager/ Osteopath
"For me, the best part of my job is the dream and challenge of building a Canada-wide organization that provides expert wellness services to all ages by applying evidenced-based treatments. Using the most modern techniques, tools, and machines, we facilitate rehabilitation and wellness, taking care to carefully diagnose each case individually." Currently located in Whitby, Ontario, PhysioCare Physiotherapy is managed by Gamal Gouda and his expert team. The clinic's services include: physiotherapy, massage therapy, chiropractic services, osteopathy, laser therapy, acupuncture, and more.
Physiocare has the most updated equipment for this field of healing including shock wave, decompression traction system, ultrasound, laser, infrared, and other systems. His team is highly specialized in their training and work collaboratively in treating patients. Some of the techniques they implement include: active release, McKenzie, Graston, Mulligan, manual therapy, and more.
Gamal has over 24 years of international experience as a physician specialist in internal medicine and nephrology. He takes people's physical problems seriously and is methodical and patient in finding the correct treatment to alleviate pain for good. He is truly devoted to helping others. "I feel like I'm directly helping people in situations that are overwhelming and seemingly impossible to them."
Gamal graduated from the Ontario School of Osteopathy and Alternative Medicine in Toronto as an Osteopathic Manual Practitioner. He focuses on Myofascial Release Technique, Counterstain Technique, and Muscle Energy Technique.
"What motivates me every day is the satisfaction of seeing our clients get well after coming to our clinic with very serious issues. Some people experience awful trauma and pain, and it's wonderful to help them recover to a state of being pain-free." Currently, Gamal is working on a project that would link his clinic's work with research studies to further advance techniques and improve practices in these medical fields.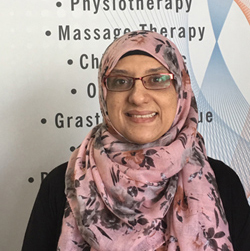 Ghada Shendy, Owner/ Registered Physiotherapist
Ghada Shendy is a Registered Physiotherapist in Ontario. She earned her Bachelor degree and Masters degree of Physical Therapy at the University of Cairo in Egypt. She was the head of the Department of Physical Therapy at the College of Health Science For Girls and The University of King Abdel Aziz in Saudi Arabia. She specialized in manual therapy and pelvic floor care.
Ghada enjoys helping her patients understand the role of physiotherapy in maintaining proper function of the pelvic muscles before, during and after pregnancy. Ghada is interested in teaching and mentoring students in health care programs and has supervised co-op and other active learning placements.
Ghada is passionate about providing her patients with the best quality of care, using the most advanced and effective treatment methods for musculoskeletal injuries.
Her Certifications include:
• McKenzie Treatment Technique
• Mulligan Manual Therapy Technique
• Pelvic Floor Health Program
• Bioflex Laser Therapy
• Graston Technique
• Manual Physical Therapy-level 2
Ghada is also a mother of three and loving wife. In her free time she enjoys swimming and reading.
Ryan Hill, Registered Massage Therapist
Ryan Hill graduated in 2012 from the Sutherland-Chan School of Massage Therapy in Toronto. He is a member of the College of Massage Therapists of Ontario. Ryan's experience includes training in the Toronto General Hospital Thoracic Ward, the Princess Margaret Lodge and the Sutherland-Chan Clinics; multiple sclerosis, senior and student; where he worked on clients with various conditions and disabilities. 
Ryan also has an interest in sports massage therapy and has worked with both runners in the Toronto Marathons and Toronto Marlies hockey players. He is able to provide the benefits of massage therapy both pre and post event. He practices a "Find the cause, treat the cause" approach as pain in one area can stem from various other locations in the body. 
He uses Myofascial Release, Deep tissue, General Swedish and Neuromuscular Massage techniques. As well as joint mobilization, hydro therapy and stretching/strengthening exercises. Whether to recover from injury or stress, Ryan looks forward to providing exceptional massage therapy to his clients at PhysioCare.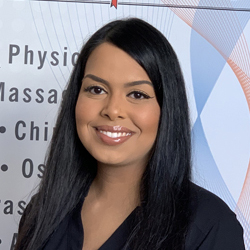 Dr. Jessica Kissoon, Registered Chiropractic
Dr. Kissoon is a licensed Chiropractor in Ontario who completed her Doctor of Chiropractic degree at the Canadian Memorial Chiropractic College. Prior to becoming a Chiropractor, she attended the University of Toronto where she studied Biology and Psychology. She has also completed postgraduate studies at McMaster University and is certified in Contemporary Medical Acupuncture as well as Webster Technique for pregnant women, through the International Chiropractic Pediatric Association (ICPA).
As a firm believer in continuing education, Dr. Kissoon is currently completing her CACCP certification through the ICPA and actively participates in courses and seminars centered on health and pain management for women and children. Her approach includes the use of spinal/joint manipulation and mobilizations, myofascial release therapy, graston, acupuncture, laser, electrotherapy, custom orthotics, and rehabilitation exercise programs.
Dr. Kissoon has always had a strong will to help others and is passionate about giving back to the community by dedicating many years of volunteer work to local hospitals, retirement homes, and institutions to promote health and well- being. She strives to improve the quality of life for her patients and those around her and looks forward to working with you to meet your health goals at PhysioCare.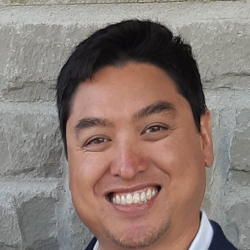 Oliver Isla, Registered Physiotherapist
Oliver Isla graduated on the Dean's list from the University of Western Ontario with a science degree in Kinesiology. Afterwards, he graduated with distinction from the University of Toronto faculty of Medicine with a BSc. in Physical Therapy. He has experience in sports injuries working with athletes in Canada and overseas, such as Ireland and South Africa, and previously sat on the Ontario Soccer Association Medical Advisory Committee. Since then, he gained further experience in multiple clinics doing MVA rehabilitation, and also has over 15 years experience with chronic conditions, working in elder care and long term care.
Additionally, as a subject matter expert in patient lifts and transfers, he was previously retained by the Region of Durham for a case before the OHR Tribunal. With over 20 years experience as a physiotherapist, Oliver is comfortable working with a variety of clients, with a variety of conditions.
Sindhuri Parimi, Registered Physiotherapist
Sindhuri Parimi is registered with the college of physiotherapists of Ontario . She completed her Bachelor in physiotherapy with honours status from India . Sindhuri worked in various rehabilitation settings including outpatient clinics, nursing homes, and hospitals. She has a great experience in dealing with clients with sports injuries, conditions causing acute/chronic pain, repetitive injuries, motor vehicle accidents (MVA) and workplace injuries (WSIB).
Sindhuri believes in functional approach of treatment with manual treatment techniques, home exercise program, providing patient education, preventing recurrence and thereby helping her patients achieve their goals and pre-injury level of functional activities.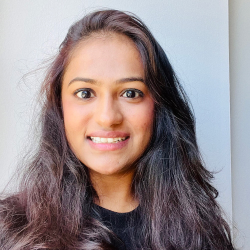 Prachi Mayankkumar Amin, Registered Physiotherapist
Prachi is a Resident Physiotherapist with the college of Physiotherapist, Ontario and is in good standing. Prachi graduated in 2016 from M.S University, Gujarat, India with a Degree in Bachelor of Physiotherapy. Prachi worked in a variety of settings including multispecialty hospital-based physiotherapy, outpatient orthopedic clinics, and a private physiotherapy clinic in India. She brings a multifaceted perspective to treatment. Her treatment approach includes hands-on manual therapy, soft tissue release in combination with a targeted home-based exercise program to establish the patient's goals and rehabilitation. She focused on patient's concerns and educating them about their conditions.
She believes in the continuous learning process and evolving her skills, Prachi consistently thrives to evolve her practice by merging the most current, evidence-based literature. She is passionate about her work and always eager to learn new things.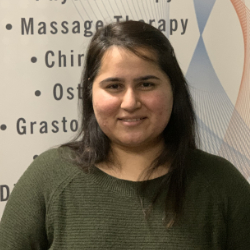 Sanchita Sawlani, Registered Physiotherapist
Sanchita completed her Bachelor of Physiotherapy with honors in 2012 from India. In 2015, she acquired Advanced Diploma in Exercise and Leisure Management from Cambrian College of Applied Arts and Technology in Sudbury, ON. She has experience working in both hospitals and private practice settings that have a caseload of all ages. As a Physiotherapist, Sanchita aspires to provide comprehensive and compassionate care to all her patients. She emphasizes the utilization of evidence based treatment strategies along with patient education, individualized exercise prescription and hands-on care with manual therapy.
Sanchita is a firm believer in continuing education, which is why she has continued to enhance her skills with concepts of soft tissue release through cupping and Gua sha, acupuncture, pelvic floor rehabilitation, McKenzie Method of MDT (Part A) and introductory vestibular rehabilitation. Sanchita is an avid reader. In her spare time, she enjoys music, nature and books.
Sandra Reid, Registered Massage Therapist
Sandra has always had a love for animals and working with people. She has always driven to improve the well-being and overall health of others and having the benefit of helping clients improve their mobility, range of motion, as well as managing and reducing pain. Registered in Massage therapy and Certified in BIOFLEX Laser, she is always looking to increase her range of skills. 
Sandra has knowledge in trigger point therapy, myofascial release, joint mobilization, stretching and strengthening and cupping. Whether it is a general massage to relax, rehabilitating an injury, reducing strain and stiffness, Prenatal/Postnatal massage, or massage for infants (and children, she enjoys being a part of what gets clients get back to what is important to them without pain and limitation.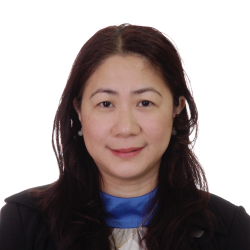 Sheryl Idmilao, Registered Massage Therapist
Sheryl is a Registered Massage Therapist and a member of RMTAO;, she has completed Massage Therapy in Toronto and she is a Graduated Bachelor of Science in Physiotherapy in the Philippines. Through careful listening and thoughtful communication, Sheryl strived to create effective treatments to bring balance and well-being. She believes in the importance of being present and tuning in to every client I work with.
Sheryl is trained in all aspects of massage including the following: Deep tissue, Myofascial release, Orthopaedic assessment, Swedish, Injury Rehabilitation, Trigger point therapy, Sports Therapeutic modalities, Passive Stretch Therapy – Proprioceptive Neuromuscular Facilitation, Lymphatic drainage and Relaxation. I love that I can provide a relaxing space and care for clients while addressing specific concerns. I have experience working with a variety of injuries and postural imbalances, and I believe that massage can be incredibly beneficial. In her spare time, She likes to sing and spend time with her husband and 2 beautiful children. She love to listen praise songs to calm her body and soul.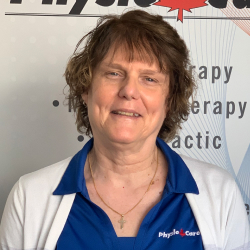 Tracy Clayton, Office Manager
Sheryl is a Registered Massage Therapist and a member of RMTAO;, she has completed Massage Therapy in Toronto and she is a Graduated Bachelor of Science in Physiotherapy in the Philippines. Through careful listening and thoughtful communication, Sheryl strived to create effective treatments to bring balance and well-being. She believes in the importance of being present and tuning in to every client I work with.
The knowledge Tracy has gained in my 10+ years in customer service, as well as managing an office, has helped her in achieving this goal and teaching others as well. Outside of work, she enjoys spending time at home and at the cottage with her husband, her four children and five grandchildren.